Petitions 
10 April 2019
Free Nasrin Sotoudeh and others like her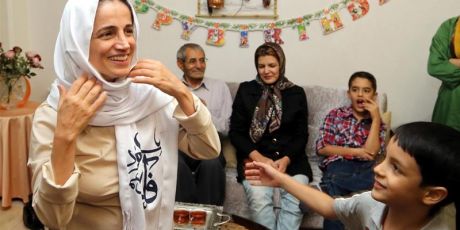 A petition from Avaaz.
She'll get 148 lashes on her body, and spend nearly 4 decades in prison. This is the awful punishment Nasrin Sotoudeh will face for peacefully advocating for women's rights in Iran. Nasrin was invited to advise the G7 on legislation to protect women, but was locked up when the meeting took place.
To Emmanuel Macron, host of the G7, and all G7 leaders:
As concerned citizens from around the globe, we urge you to call for the release of Nasrin Sotoudeh in Iran, Loujain al-Hathloul in Saudi Arabia, and all other women's right activists being imprisoned and abused around the world. We call on you to use your economic and diplomatic leverage to free these brave women and send a message to the world that women cannot be abused with impunity.
Add your name now ahead of a key meeting — Avaaz will work with Nasrin's G7 colleagues to deliver our call directly inside the room!
(expiry 1 May 2018)
---
2 April 2019
Westminster Abbey — 3rd May 2019
A petition from Christian Campaign for Nuclear Disarmament (Christian CND).
On Friday May 3 Westminster Abbey will be hosting a service to mark 50 years of the UK having nuclear weapons on constant patrol at sea. The service is to recognise all the individuals and organisations who have made a significant contribution to defending the nation as part of this mission.
Christian CND believes that nuclear weapons are contrary to the teachings of Jesus and the Bible. We regret this anniversary and wish that it had not been reached.
Christian CND wants to use this anniversary to raise awareness and continue to campaign for the elimination of these terrible weapons.
Click here to find out more.
(expiry 3 May 2018)
---