Click on link to take action https://e-activist.com/page/67273/data/1?ea.tracking.id=Email_Share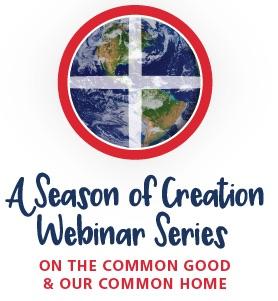 During this year's Season of Creation, Catholic Climate Covenant is pleased to host a five-part webinar series, "On the Common Good & Our Common Home," for U.S. Catholics to:
Understand how Catholic social teaching (CST) and creation care are essential to the fullness of faith and the Church's mission;
Facilitate courageous conversations about climate change and Catholic civic participation;
Apply Catholic Social Teaching, including creation care, to form one's conscience ahead of the 2020 elections.
The Season of Creation ( celebrated annually between September 1 and October 4) is a special time for Christians. As we are called to renew our faith in the God of all creation and join in prayer and action for the care of our common home, this webinar series will help us on our journey of love in action.
Stay tuned for more information on webinars 3-5! Details coming soon and visit www.CatholicClimateCovenant.org for the latest. When you register for the first webinar, you will automatically receive more details on the other webinars in the series as they are announced.
With one of the world's largest economies and nearly 750 million people, Europe can lead the just transition away from fossil fuels and toward a life-sustaining economy.

But what needs to be done, and how can all of us play a role in making that happen? A panel of global experts will explain during the final Season of Creation Just Transition webinar on Thursday.

With so many interlocking crises facing our world, including the COVID-19 pandemic and the climate emergency, we can all take actions to build a better future. Our faith calls us to take those bold actions right now. Join this webinar to learn what role you can play.
Season of Creation Webinar
A Just Transition: Europe's Responsibility to its People and to the World
Oil spill response volunteers clean up a beach in Galicia, Spain. Photo by Stéphane M. Grueso.
When: Thursday 24 September

Time: 8:00 Quito / 9:00 New York / 14:00 London / 15:00 Madrid, Rome / 16:00 Nairobi

Note: The webinar will be English but simultaneously interpreted to Spanish, French, Italian, Polish, and Portuguese, all for free.

If you would like translations, register here to receive a Zoom invitation to the webinar.

Once you register, you will receive an email with a link to join.

If you prefer English, join the webinar on YouTube here.
Sister Alessandra Smerilli
is an economist and coordinator of the Vatican's Commission for Covid-19's Economics Task Force. She is also a member of the Scientific and Organizing Committee of the Catholic Social Weeks, promoted by the Italian Episcopal Conference.
Edwin Mumbere
is the
Coordinator for Centre for Citizens Conserving, a non-profit organization in Uganda dedicated to influencing environmental policies to benefit the vulnerable.
Marcin Kędzierski,
Europe and Poland expert at the Jagiellonian Club, an independent think tank in Poland.
Lydia Lehlogonolo Machaka
is the Climate & Energy Officer at CIDSE, an international family of Catholic social justice organizations working for transformational change.
Youth-led Season of Creation webinar
Prophetic voices for climate action
Blessings,

Cheryl DuganProgram Manager- English Speaking Animators and Asia Pacific
P.S.. GCCM is hiring! Do you know someone interested in helping grow this movement as a development coordinator? Learn more and apply here.
---
Join our webinar at 3pm, Tuesday 15th September
One in three internet users world-wide are children, yet virtually none of the services popular with children are ad-free.

So what kinds of ads are children seeing online, and in what volume? Are kids particularly vulnerable to 'behavioural' advertising, which tracks users and gathers personal, sensitive data to precision-target ads at users? Is it even legal to serve behavioural ads to young children?

Our expert panel will address these questions, and consider online advertising to children in the context of children's exposure to wider online harms; efforts to curb consumerism in a climate constrained world; online privacy; brand safety; and regulatory efforts to strengthen children's rights. Joining us on the panel are:
Sonia Livingstone OBE
Baroness Beeban Kidron OBE
Tim Kasser, Emeritus Professor of Psychology, Knox College
Nandini Jammi co-founder of Sleeping Giants and Check My Ads
Josh Golin Exec Director, the Campaign for a Commercial-Free Childhood
Pedro Hartung Lawyer for Children's and Human Rights at Instituto Alana (Brazil)
We will be writing to major tech organisations asking them to turn off targeted advertising to under 18s.

If you are interested in adding your organisation's name to this letter, or would like to hear more, please email oliver.hayes@globalactionplan.org.uk
Flickers of the Future launch event, 1st October, 5pm
We're very excited to announce that we are co-hosting an online event with the Royal Television Society on 1st October.

Headlined by Richard Curtis CBE, patron of our Flickers of the Future project, the event is a response to young audience research we commissioned which highlights the need for the TV industry to rethink environmental content.
Supported by albert, the authority on environmental sustainability for film + TV from BAFTA, the event calls for the UK industry to reflect on how it can support young creative voices to be heard as part of a fresh restart for the world of TV, as well as for the planet, and is an opportunity to introduce our talented Flickers of the Future finalists to the broadcast sector.
Launching the Air Pollution Calculator
We are delighted to share that we have launched the UK's first ever personal Air Pollution Calculator, exactly one-month ahead of Clean Air Day taking place on 8 October 2020.The Calculator aims to help the public to better understand the part they can play in tackling air pollution.